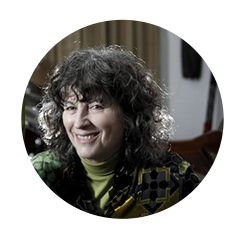 Jessica Felix
Jazz Program Director
Jessica Felix has contributed a great deal to the world of jazz with the successful and thriving Healdsburg Jazz Festival.
She began her musical activism years ago, with a nonprofit enterprise created in Oakland named "Jazz in Flight." This led to a series of home concerts that continued for ten years, including an annual New Year's Eve concert featured many world-famous musicians.
Jessica created and produced the first five Eddie Moore Jazz Festivals at Yoshi's Nightspot, which turned into seven-day major jazz events with musicians from all over the country and abroad. Throughout, her house was always home to traveling musicians.
In Healdsburg, Jessica is devoted to educating the public about jazz and helping to keep the music form alive.
Her dream of helping to create a jazz festival in Healdsburg became a reality in June of 1999, with the success of the first annual Healdsburg Jazz Festival, which featured Cedar Walton, Billy Higgins and Bobby Hutcherson. Many more fantastic musicians have followed: Pharoah Sanders, Randy Weston, Charles Lloyd, Jackie McLean, Renee Rosnes and others.