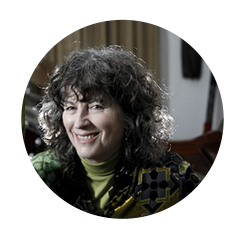 Jessica Felix
Jazz Program Director
Jessica Felix has contributed a great deal to the world of jazz with the successful and thriving Healdsburg Jazz Festival which she founded in 1999 and was artistic direction until her retirement in 2020. Her dream of helping to create a jazz festival in Healdsburg became a reality in June of 1999, with the success of the first annual Healdsburg Jazz Festival, which featured Cedar Walton, Billy Higgins and Bobby Hutcherson. Many more fantastic musicians have followed: Pharoah Sanders, Randy Weston, Charles Lloyd, Jackie McLean, Charlie Haden, Abbey Lincoln, Renee Rosnes and others. HERE is a list of her 20-year programming history.
She began her musical activism years ago, with a nonprofit enterprise created in Oakland named "Jazz in Flight." This led to a series of home concerts that continued for ten years, including an annual New Year's Eve concert featured many world-famous musicians. Jessica created and produced the first five Eddie Moore Jazz Festivals at Yoshi's Nightspot, which turned into seven-day major jazz events with musicians from all over the country and abroad. Throughout, her house was always home to traveling musicians and still is. Jessica is devoted to educating the public about jazz and helping to keep the musical art-form alive.
Many people do not know that she is also a gifted jewelry designer and has had a parallel career beginning in the early 80's. Her spirited designs have been shown in high end art galleries across the country. When she first moved to Healdsburg in 1994, she opened the gallery "Art and All That Jazz," showcasing her creations and also playing and selling an eclectic collection of her favorite jazz and Brazilian CD's. You can see her work at www.artandallthatjazz.com, on Etsy, and by appointment in her Healdsburg studio. Get on her mailing list to hear about special shows.