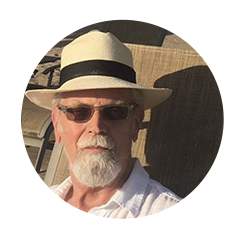 John Strawn
Performing Arts Program Director
John Strawn is an arts advisor, curator and gallerist who brings a lifetime of passion and work experience in support of the arts. He currently divides his time between his fine art gallery in Puerto Vallarta, Mexico and his work as the co-director of the Paul Mahder Gallery in what has become his beloved Healdsburg, California.
John's work experience spans the realms of nearly all varieties of the music industry as a producer and promoter of live performances and concerts, artist manager and agent. He continues through his vast expertise as an organizer and board member in the non-profit as well as the political environmental community.
John has an intimate acquaintance with workings at all levels in the fields of art, music and the environment. He brings an unwavering belief in the necessity of the responsible stewardship of our shared environment, and in the unique role that the arts play in the understanding and appreciation of our planet, the universe and our community within it.